MESSAGE FROM GROUP MANAGING DIRECTOR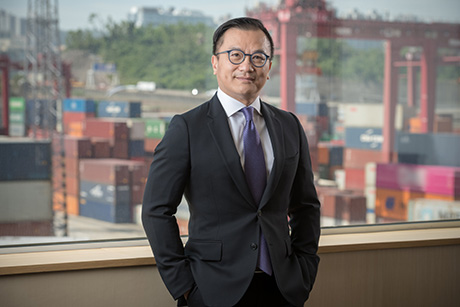 In the past year, the port industry was full of challenges and opportunities brought by the severe global supply chain disruption caused by the pandemic. A surge in demand caused an above-average growth for global container trade in 2021. It is expected that the situation will continue into at least the first half of 2022 with full year growth moderating to more normal mid-single-digit level. However, uncertainties remain with the virus variants affecting the effectiveness of vaccines and the trade relations between China and the US keep changing.
In Hong Kong, the combined facilities of the Hong Kong Seaport Alliance have helped us to be more flexible and agile in responding to the sudden surge in demand for terminal services from our shipping line customers. However, our growth in the second half of 2021 was limited by the increasingly high yard density due to the increased number of long-staying containers which affected our velocity and efficiency. We hope this situation can be resolved soon together with our shipping line customers to allow us to capture a better share of the market growth. On the other hand, a new version of the Common Barge Platform has enhanced further the barge resources utilisation of HKSPA facilities with improved efficiency to barge operators. The successful upgrade of our Terminal Operating System in late 2021 has also enhanced further our operational efficiency.
In DaChan Bay, we have managed to capture the growth opportunities brought by the pandemic by acquiring new scheduled services and handling ad hoc calls. The completion of a number of digitalisation initiatives including Smart Vessel Operation System and Terminal Truck Operation System have enhanced further our efficiency and service level.