What's New
Modern Terminals Limited Supports Government Initiative to Ensure Quick Delivery of Goods to Hong Kong with Dedicated Shuttle Service from DaChan Bay Terminals
22 February 2022
Modern Terminals Limited spared no effort to put together a dedicated shuttle service from DaChan Bay Terminals in Western Shenzhen, a facility under the Company, to Hong Kong as part of an initiative of the Governments of Hong Kong SAR, Guangdong Province, and Shenzhen Municipality. The initiative aims to ensure steady supply of daily necessities to Hong Kong by offering an alternative way through the waterway.
The first shipment of the dedicated shuttle service from DaChan Bay Terminals departed at 6:30 pm on 21 February and arrived at Modern Terminals in Hong Kong in five hours, delivering a total of 13 forty-foot containers of 200 tonnes of fresh produces including vegetables, fruits, eggs...etc. There will be another shipment from DaChan Bay on 22 February. The shipments not only carried the daily necessities but also best wishes to people in Hong Kong.
To ensure a timely delivery of supplies to Hong Kong, DaChan Bay Terminals has placed priority on this shipment and arranged dedicated green channel and barge berth, priority handling, and launched a dedicated yard area for Customs inspection to ensure smooth 24-hour operation. DaChan Bay Terminals has also drawn up a guideline on prevention and control for COVID-19 to ensure the safe operations of Shenzhen-Hong Kong cross-boundary water transportation.
In Hong Kong, Modern Terminals has a dedicated team to coordinate the shipment to ensure the goods are delivered to the consignees quickly. The capacity of the service will be enhanced to meet the needs.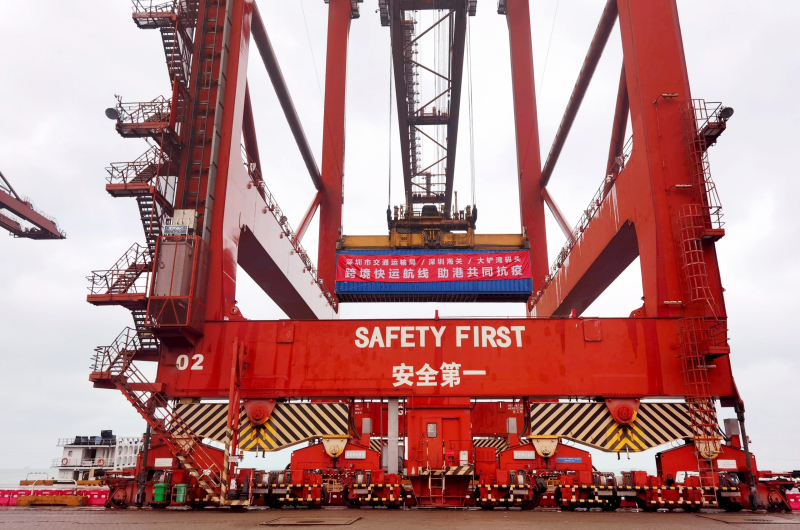 Containers being loaded onto the dedicated shuttle service at DaChan Bay Terminals in Western Shenzhen